Steve Koehler
OWNER; Jim Koehler
DRIVER; Steve Koehler
BODY; Chevy S-10
ENGINE; 572 cubic inch Chevy
CARBURETION; alcohol injected and a blower
HORSEPOWER; 1,600
TRANSMISSION; Bewick's Racing TH400
RUNNING GEAR; Profab quick change transfer case, Rockwell 106 axles with Clark planitaries
SUSPENSION; 20 inch travel on gas shocks
TIRES; 66X43X25 inch Goodyear Terras
HEIGHT; 10 feet
WIDTH; 12 feet
WEIGHT; 9,500 lbs.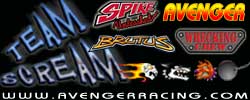 Steve Koehler
I took these shots in Syracuse, NY 3/7/ 2015.
Dennis,
Was actually surprised to see that no one had sent you pictures of the new Wrecking Crew and Spike bodies yet. These bodies ran on the Avenger and Brutus trucks in the Special Events season finale at the RCA Dome in Indianapolis. Kohler won Freestyle in Wrecking Crew with this crazy air, and ripped the rear axle out of the truck. We've got video from the entire show, so stop by and check it out!! Thanks!!
Ross Z. Bonar
THE MONSTER BLOG
Hey Dennis these pics are from me while I was pit crewing with Team Scream, from Montreal April 9th 2009, I hope you can use some of them.
thanks Neil Barlow
I sent you 3 albums of pics from Chris Arel show from Montreal if you want to use any for your website please use any you want. Thanks Neil Barlow
| | | |
| --- | --- | --- |
| | Lindsey Hilgendorf | Steve Koehler |
Derrick Golla sent me these shots.
Daniel Hennis sent me these shots.
Dalton Hastings sent me these shots.
Derrick Golla sent me these pictures.
Wrecking Crew applied for an extension and it was granted.
BACK TO GALLERY