OWNER; Jim Oldaker
BODY; 1972 Dodge 300 Tradesman Van
ENGINE; 671 cu.in. Detroit Diesel
TRANSMISSION; Fuller 5 speed
RUNNING GEAR; 5 ton Rockwell transfer case, 5 ton Rockwell axles
SUSPENSION; the original frame is spring mounted to the 2 1/2 ton water truck frame, leafs from the water truck and 16 Rough Country shocks
FEATURES; color TV, Stull Tube grill, 4 Stewart Warner lights on the light bar, chrome double bumper in the rear, and chrome triple bumper in the front with a brush guard.
TIRES; 66X43X25 inch Goodyear Terras
HEIGHT; 12 feet
WIDTH; 12 feet 6 inches
LENGTH; 20 feet
WEIGHT; 18,000 lbs.
TIME TO BUILD; 7 months
Jim sent me the next 35 pictures below . There are alot of them but it is worth the wait, so sit back and enjoy the shots. Thank you Jim and I hope you like what I've done with it. I also hope you enjoy the model I sent you.
That's all of Jim's pictures.
Jeff Cook of War Wagon let me use these shots.
Visit Jeff's site www.wildmanjeff.com for more history pictures.
Richard Scott sent me this shot.
I scanned this shot from Michael Benson's book "Monster Trucks". Photography by Mike Bargo.
I scanned these pictures from Magazines that I purchased.
Jeff Bates sent this shot.
These shots were captured from Return of the Monster Trucks.
These shots were captured from War of the Monster Trucks.
These shots were captured from MotoRock Monster Madness.
| | |
| --- | --- |
| I built this truck for Monster Truck Madness 2 game. | |
I built this model for Jim Oldaker using a Dodge Van, a USA-1, and a Fire truck.
Cost to build;$79.oo Time to build; 32hours Scale; 1/25th
Features; Hand fabricated frame, nerf bars, rear bumper, front bumper and the placement of the Fire truck's diesel engine. Completely hand painted.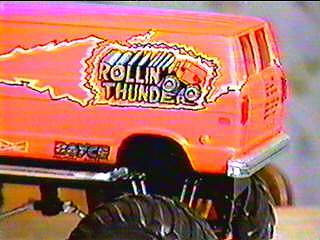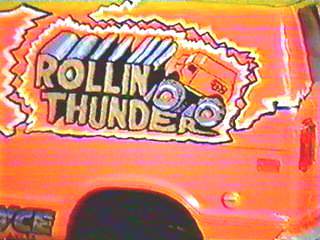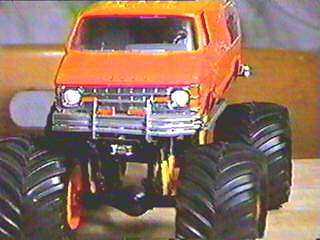 This is one I built in 1989. I couldn't find the right body so I built it using a Ford. (Sorry Jim) It was many years before I found the right body.
BACK TO GALLERY