I majored in art and the industrial arts in High School. I worked in photography and the dark room, printing, and plate making for the printer for 4 years in school. I was the layout editor and first photographer for the year book. Then I went in the United States Marine Corps for 4 years where I repaired communication equipment. Then I was an exposure mechanic and later an equipment mechanic for Toshiba Display Devices. If you turn your TV off and look closely at the screen you'll see tiny red, green, and blue lines separated by black lines. I put them there. Toshiba closed the plant so I work at World Kitchen were we make Corelle ware dishes. My wife Ann is presently going to college for her second business degree and works for Corning Inc.
Here is a video that shows the Hubs I run to make Dishes.
This is a picture of Ann and me at graduation in 1985. The painting on the wall behind us is one I painted in the school lobby in my 10th grade year. It only took me 10 months to paint it.
These are my senior picture and my military picture. I know I look like a little boy.
Over the last ten years I've been painting on plates, cast iron pans, race cars and trucks, business signs and vehicles, saw blades and bug Shields, and anything else people ask for. This is a plate I painted for my wife. The plate broke.
This is a shot of my wife Ann, my 2 sons Tony and Alex, and myself
| | | |
| --- | --- | --- |
| | To the left is my pine grove, which I love. In the middle is the biggest ornamental apple tree I've ever seen and at the right is my grapes. Out front (not in picture) is a big dark purple leafed Maple tree. | |
Ann and I finally bought our first house in 2003. We got 3 1/2 acres with the house, and a 2 car garage. One month after we got it a tornado went through the woods past the back yard. It was very disappointing, but Tony and I spent 2 years clearing the fallen trees and made a camping area out of the mess. We used the trees to build a small pavilion 12 x 25 ft.
Since we have the new property I have been planting fruit and flowering trees, shrubs, and all kinds of flowers. So Ann bought me a garden pond kit for my Birthday 15 years ago. It only seemed natural to add a piece of my other hobby to the pond. When I first put the tire in the yard, people would stop in front of the house and ask where did I get a tire that big. Not too many Monster Truck shows around here so they probably never saw one of these tires.
The pond has since moved in to the closed in porch.
I used to be president of the Puddle Jumpers 4X4 Club. I really enjoy 4 wheelin. This is my Blazer. I sold the Blazer to my Brother Dan in Dec. 2005.
Lastly, I've been building Monster truck models for the guys that own the real ones since 1988. I've built over 130 models for them. There are some samples of them in this site. This is an article from Petersen 4WHEEL magazine when I won their model contest in 1990.
BACK TO MONSTER TRUCK SITE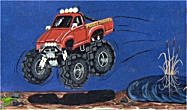 BACK TO MODEL SITE