Doug Spanier
Owners: Doug Spanier of Albany, Minn.
Vehicle: 1989 Chevrolet Silverado short bed
Engine: 572 cu.in. Blown and Alcohol Injected Chevy.
Horsepower: 1,800
Transmission: Turbo 400
Running Gear: 2 1/2 ton transfer case, and 5 ton military axles with Clark planetaries
Tires: 66X43X25 inch Goodyear Terras
Suspension: to my knowledge the first coil sprung truck, 16 Trailmaster shocks
Weight: 13,000 lbs.
Height: 11 feet
Width: 11 feet
Length: 16 feet
Top Speed: 60 mph.
I took this and the next 7 shots in Raleigh, NC. 1989.
This is where the paint came from.
DO YOU REMEMBER ME?
TRADING CARDS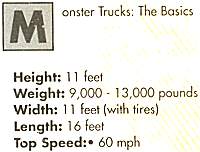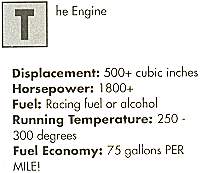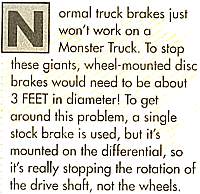 I took these pictures with a video capture card from a TV show.
These shots were captured from a show in Minneapolis 1989. Click for show.
Bigfoot 8 could not make the turn and Master went on to win.
Doug won the first 3 lane show.
SHOW TWO
This is a model that I built for Army Armstrong using a USA-1 model.
Cost to Build: $17.00 Time to Build: 32 hrs Scale: 1/25th
Features: hand fabricated frame, shortened bed, and the coil springs where made out of real springs with a clear plastic center. Completely hand painted.
BACK TO GALLERY