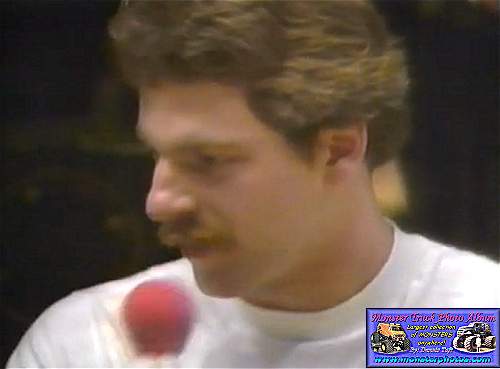 OWNER; Mike Welch of Bellingham, Washington
BODY; 1960 Ford F-100
ENGINE; 454 cu.in. Chevy
CARBURETION; 850 cfm. Holley
HORSEPOWER; 450
TRANSMISSION; TH400
RUNNING GEAR; 2 1/2 ton transfer case, 5 ton Rockwell axles from a rock crusher
SUSPENSION; Peterbilt leafs and 8 Monroe shocks
TIRES; 66X43X25 inch Goodyear Terras
HEIGHT; 12 feet
WIDTH; 12 feet
WEIGHT; 17,000 lbs.
Mike bought the stock Ford when he was only 14 years old. After many hours of labor it was ready for his first competition event in 1982 in Medford, Oregon.
Trading Cards
I scanned these pictures from Magazines that I purchased.
Don Sheehey sent me these shots.
Jeff Bates sent these shots.
Hey Dennis, its Joey. I found some old pics of Mike Welch's Monster Mash from back in 1985. My cousin was promoting a tractor pulling show in his home town and brought in the monster truck as a side act. enjoy, Joey
Steve Hurt sent me this picture.
These shots were captured from Battle of the Monster Trucks.
These shots were captured from an Anaheim1987 show. Chick for show.
BACK TO GALLERY