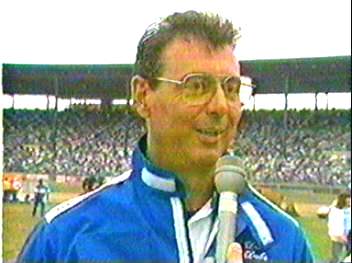 Dan Dubs
BIGFOOT FASTRAX is the only BIGFOOT vehicle not originally developed by Bob Chandler and company. It was purchased in 1988, and extensively modified for racing. It is powered by two 460 c.i.d. supercharged Ford engines. The original chassis was an M84 personnel carrier.
CHASSIS: M84 Personnel Carrier with torsion suspension; original chassis setup by Loren Puyear, modified by BIGFOOT 4X4, Inc., St. Louis, Missouri, in 1987
BODY: 1990 Fiberglass FORD Aerostar body with hydraulic tilt
ENGINE: 2 - 460 CI FORD'S with FORD TFS aluminum heads and 2 671 BDS blowers, 2 Predator carburetors on each blower, Isky cams, Wiseco pistons, Total Seal piston rings, ARP fasteners, MSD ignition, K&N air filters, Milodon oil pans, Mr. Gasket gaskets, System 1 oil filters, and RJS fire system
TRANSMISSION: 2 FORD C6 automatics with Hurst shifter and BTE race converters
FUEL TYPE: High octane racing gas - Jaz fuel cell
HEIGHT: 7'6"
WIDTH: 8'2"
WEIGHT: 23,500 lbs.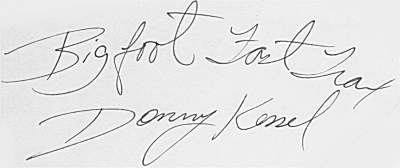 Rear
Front
As you can see, Loren Puyear was designing the tracks for a Chevy body.
Trading Cards
I scanned these shots from Bill Holder's book "The Ultimate Book Of Monster Trucks". Photography by John D. Farquhar.
I scanned these pictures from Magazines that I purchased.
Richard Scott sent me these 2 shots.
Bob gave Everett Jasmer USA 1 a ride without seat belts or helmets. They cruised around with the body up, then Bob lowered the body and did a small jump and you can see Everett got thrown around pretty good.
This was built using a Ford Econoline Van, a tank, and 2 Bigfoot models.
Cost to build; $60.oo Time to build; 35 hours Scale; Van1/25, Tank 1/34
Hand fabricated interior floor, roll bar, steering sticks, grill, windsheild visor, and the body was cut off then hinged for the tilt body. I hand painted it but at the time did not know that Fastrax was spelled with one t.
BACK TO GALLERY