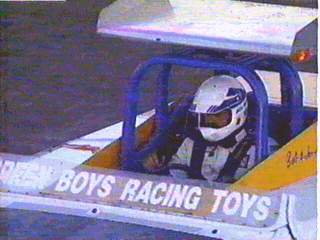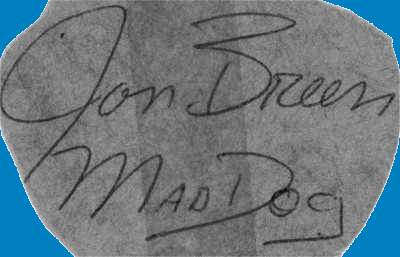 OWNER; Jon Breen of Jefferson City, Missouri
VEHICLE; 1986 Chevy Blazer
ENGINE; 454 cu.in. Chevy
CARBURETION; alcohol fuel injection system atop a 6-71 BDS blower
HORSEPOWER; 600
TRANSMISSION; TH400
RUNNING GEAR; 2 1/2 ton military transfer case, 5 ton military axles
SUSPENSION; front- 10 leaf packs and 6 Rough Country shocks, rear- 9 leaf packs and 8 Rough Country shocks
FEATURES; centrally located cockpit with a heavy duty roll cage that has a wing on top
TIRES; 66X43X25 inch Goodyear Terras
HEIGHT; 11 feet
WEIGHT; 10,000 lbs.
UPDATE
the truck is now in my front yard, I so far have repainted the axles, and frame, along with a few small other things. Im waiting to get a few parts for the hydrolic steering. I plan to fix the truck enough to do outdoor jambories, that way I don't have to have the 4wheel steer. I also got a new frame that came with the truck and plan to turn that into an indoor arena/competion truck. As of right now I do not have the rights to the name mad dog, I do not have a new name picked out yet. A little about me, I'm a recent grad of Ferris State University in MI., I have an As in applied science (Auto), and a Bachelors in Technical Eduaction, Im a Auto instructor at Southern Lakes Career Center in Fenton Mi, and I'm only 22. The main things that are slowing me down from completeing these projects are lack of time and money, Andrew Michalik
Trading Cards
I took the next 13 shots in Raleigh, NC. 1989.
I scanned this shot from Bill Holder's book "The Ultimate Book Of Monster Trucks". Photography by John D. Farquhar.
I scanned these pictures from Magazines that I purchased.
Hey Dennis,
I thought you may be interested in some of my old photos for your site. They're from an event at the Pontiac Silverdome in either 1990 or 1991. I have them in protective plastic pages in a book, so I just scanned a couple pages to see if you like these or not. I have more old ones like this, so let me know if you'd like me to send any others.
Thanks,
Derrick Golla
I built this model for Army Armstrong for Christmas years ago. It was built using a Blazer Monster and a Bigfoot model.
Cost to build; $25.oo Time to build; 28 hours Scale; 1/25th
Features; Hand fabricated frame, bed and cab cover, roll cage, rear bumper, wing, and windsheild.
Completely hand painted.
BACK TO GALLERY