Allen Pezo of Brentwood, TN.
Driver: Allen Pezo
Owner: Allen Pezo
Body: Chevy Custom Cat
Engine: Keith Black Hemi/Chevy Big Block
Horsepower: 1800/1500
Transmission: 3 Speed Lenco
Transfer Case: SCS
Axles: Rockwell with Clark Planetaries
Shocks: Knight Stalker Nitro Charged Gas Shocks
Tires: Goodyear 66X43X25 or Firestone 66X43X25
Weight: 9,500 lbs
Height: 11 feet
Width: 12 feet
I've seen Allen and Predator in Elmira, NY. Aug. 7, 1993 and a few times in Bloomsburg, PA. I took these pictures.
I took these shots in Las Vegas, 2006.
I took these shots in Bloomsburg, PA., 2006.
I took these shots in Bloomsburg, PA., 2003.
Dave & Tony
I took these pictures in Nazareth, Pa. 2002.
Paul Andrews sent me these shots.
I scanned these pictures from Magazines that I purchased.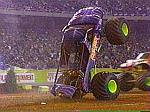 I scanned this shot from a Monster Jam Official Souvenir Yearbook.
I built this truck for MTM2.
I built this one for Kirk Dabney. It was built using the USA-1 and the Hammer Head model.
Cost to build; \\$30.oo Time to build; 92 hours Scale; 1/25th
Features; Hand fabricated frame/cage, suspension, engine Shields, cab extension, and front clip. The front clip was made of pieces of plastic heated and shaped then covered with bondo then sanded into shape. The teeth were made from plastic heated and shaped. Completely hand painted.
PAGE 2
When you are done on my site, check the home of the Cats.
BACK TO GALLERY