Army and Mike Welch at the International Monster Truck Museum Hall of Fame.
I took this picture in Nazareth, Pa. 2002.
In my opinion there has never been or will there ever be a better announcer than Army. He was well informed and was good friends with the people in the business so he knew what he has talking about. If you go through the old TNT tapes you will see that Army did his best to change the publics view of Monster trucks to the fact that it was a real sport rather than a side act.
Army and I met back in 1988. I got up the courage to introduce my self and was surprised that he took time out to talk to me for about 20 minutes. The following spring we met again when I had a car load of monster truck models. Army asked me if I would like to be on the show that day. I loved it but was very nervous. Since then we have been good friends. He has several of my models and I have several of the old TNT REDMAN shirts that he wore as he was announcing back then. In fact I have the sweater he wore in the picture below. You remember it, green with a yellow stripe around the chest.
If an up and coming Promoter wanted to break in to the business, you would get great help by hiring the best theres ever been, Army Armstrong.
Army with Mike Whitt of Stomper.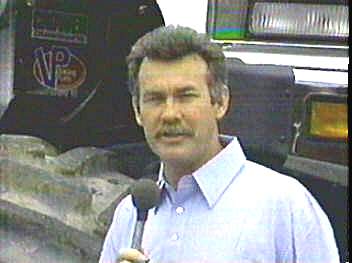 I was going through old mags, and found a PowerTrax mag from 1989 and in it were three picture that Army drew or painted. I want to share them with you.
BACK TO GALLERY